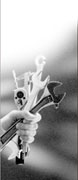 On 8 April 2017, a wholly-owned subsidiary of the Company entered into a preferred share purchase agreement with Wacai, pursuant to which the Group, as one of the investors, agreed to subscribe for the newly issued preferred shares of Wacai at a consideration of US$25.00 million, representing approximately 3.08% of the enlarged issued share capital of Wacai.
Wacai is a leading online comprehensive financial planning and wealth management platform. With its devotion to providing one-stop online financial management tools, information and advisory services to its customers, Wacai has developed an ecosystem around personal financial planning, wealth management, credit management, and vertical online discussion forum. Based on the profound understanding of customer needs for wealth management, user-friendly product design, cutting edge finance technology, and rigorous risk management, Wacai has been providing consistent and high-quality online wealth management services to over 47.00 million registered users in the past eight years. Wacai is an independent third party of the Group.
During the Period, due to the sudden tightening of regulation on Internet finance and the macro environment of large-scale de-leveraging, the business performance of Wacai was adversely and continuously affected. Wacai had gradually exited its highly regulated person to person business. The Company expects that Wacai will continue to seek business diversification and identify new areas for growth in revenue and profit in the future.