Richmond Park Opening Reception
September 1, 2004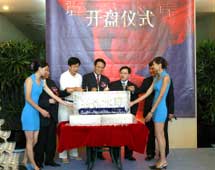 The "Voyage de Richmond Park" opening reception took place last Saturday afternoon, and received overwhelming response accommodating over 100 attendees. It was an eventful afternoon gaining insights from a welcoming speech by Mr. Lawrence Wood, the director of Beijing Pacific Palace Real Estate Development Co. Ltd., as well as enjoying live musical performance and hor d'oerves accompanied by wine and champagne. The attendees had also the opportunity to gain product information through guest speeches presented by the company's business partners, including Hitachi, Alno, Roca, Beijing Sunlight Architects and CPG Facilities Management.
Mr. Lawrence Wood also announced that the company would donate Rmb 1 million to Mr. Liu Xiang and the China Track and Field Department in celebration of his success being the first Asian men to win an Olympic track gold when he triumphed in the 110 meters hurdles. The team's outstanding performance has helped bring China enormous spiritual wealth and drive. The donation details are yet to be arranged by the respective parties, to figure out the most effective way to further promote the track and field development in China.
ING Beijing invested in the Richmond Park (Project name: Pacific Town) in 2002. The project has received excellent sales result after its soft sale launch in July. By the end of August 2004, the project has recorded over 160 bookings for its 406 apartments. The apartments are fitted to a luxury standard and are marketed at a very competitive average price of Rmb 9,600 per square meters.