Investment in Richmond Park generated an investment return IRR of 24%
Feb 15, 2008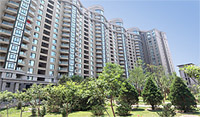 Management of New Capital has facilitated the sale of Richmond park project invested by China Property Development (Holdings) Limited ("CPDH? taken full advantage of the excellent market conditions existed during the second half of 2007. CPDH completed sale of the Richmond Park Project in December 2007 generated an IRR return of over 24% for it's investment in the project. The divestment allows CPDH to shorten investment period and improves return. The sale has also contributed significant positive effect to New Capital's 2007 result.
New Capital invested HKD 78 million for a 33% stake in CPDH in February 2002 which holds 100% interest in the Richmond Park Project. The project is a high-end residential development project located at the northeastern corner of Beijing with total planned GFA of 340,000 sqm.